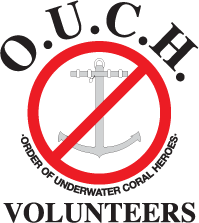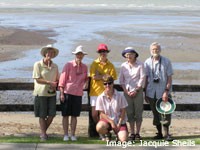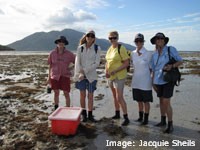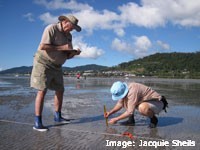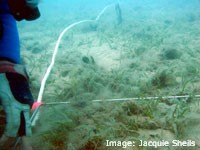 Seagrass Watch Whitsunday
The Whitsunday Seagrass Watch Volunteers carry out quarterly Seagrass-Watch monitoring at Pioneer Bay and Hydeaway Bay. The data we collect provides information on trends in the health of this important habitat, and the species it supports, and is used by scientists and Government management agencies.
Seagrass Watch is a community based monitoring program that was born within the Queensland Department of Primary Industries and Fisheries Marine Ecology Group in the late 1990's, when researchers Warren Lee Long and Len McKenzie wondered if volunteers would be interested in "watching the grass grow"? They found that the answer was definitely yes, and there are now 259 sites being monitored by volunteers in 17 countries throughout the Asia-Pacific.
Monitoring is done at low tide by walking across the seagrass flats and locating the sites using GPS. The area to be monitored is marked out with tape measures and the volunteers take photos and record information about the seagrass, as well as any signs of dugong and turtle activity. Details about the methods used are on the Seagrass Watch website: http://www.seagrasswatch.org/manuals.html
Whitsunday Seagrass Watch welcomes new particpants: if you want to get outdoors and learn about the marine environment, then grab some wetsuit boots & get involved. Anyone can volunteer, you just need a moderate level of fitness, curiosity and a sense of humour! Each outing takes a few hours and there are currently four outings each year at Pioneer Bay and two each year at Hydeaway Bay.
You can find out more & register as a volunteer online on the SeagrassWatch state website: www.seagrasswatch.org.
Enquiries:
Whitsunday Seagrass-Watch local co-ordinator:
Jacquie Sheils 0420 747 959

Or email info@ouchvolunteers.com